Utilize your CSR report for sustainable reporting with Lenzing Papier
An important component of corporate communication is the CSR (Corporate Social Responsibility) report, which outlines the social and ecological performance of a company. From 2024 onwards, according to new EU regulations, listed SMEs will be obliged to report on their sustainability management activities. Today we would like to provide you with a few pointers as to why you, as a company, should already take action now and how you can use the mandatory reporting to your advantage.
Which companies are affected by the CSRD (Corporate Sustainability Reporting Directive)?
Companies with 250 or more employees (irrespective of their capital market orientation)
A turnover of more than 40 million euros
A balance sheet total of more than 20 million euros
The mandatory reporting already applies as soon as two of the three criteria listed are fulfilled.
Source: https://ec.europa.eu/commission/presscorner/detail/de/qanda_21_1806
How can the CSR report be used for corporate communication?
If your company puts its sustainability performance and strategies at the centre of its communication, you can distinguish yourself from your competitors and be viewed positively by customers, employees and investors.
Another advantage of a CSR report is that it also serves as a transparency report. By disclosing internal facts and information on social and ecological performance, you show, that as a company, you are aware of your responsibilities and that you comply with them.
The CSR report can also serve as a source of communication on your company's website or social media. Selected sustainability achievements can also be featured in customer and staff magazines or in press releases.
Overall, the CSR report offers a valuable opportunity to integrate sustainability performance into the corporate communication and thereby promote a positive perception of the company. It is true across all industries today that the search for qualified employees has become very difficult. The environmental performance, along with other factors, is heavily scrutinized by future employees and is often the deciding factor for or against joining a company.
The key figures support the validity.
The newly enacted CSRD requires companies to provide in-depth information and key figures on how the issue of sustainability affects day-to-day business and how it has impacted on the company financially. The company's sustainability activities and CO2 savings of the company must be substantiated with concrete data. The more precise and comprehensive the data is, the more credible your stakeholders will perceive your company. At the same time, the CSR report is a great opportunity to differentiate and stand out from competitors.
Why use LENZING paper for the CSR report?
The use of premium recycled paper from Lenzing Papier for your report underlines your efforts for a sustainable development by avoiding emissions and you are sending thereby a clear signal. The emissions associated with the production of the report are unmatched and the pleasant feel of the paper makes reading the report even more interesting.
The main differences to other products result from the sustainable manufacturing processes. Lenzing Papier uses 100% recovered paper and has developed low-impact treatment processes. This makes the paper particularly resource friendly. Our company has a high proportion of energy from renewable sources and therefore contributes to the reduction of greenhouse gas emissions.
By using recycled paper from Lenzing, you reduce your CO2 footprint and make a further contribution to protecting the environment.
By choosing Lenzing paper, you can be sure that you are using a sustainable and credible product that supports your environmental activities.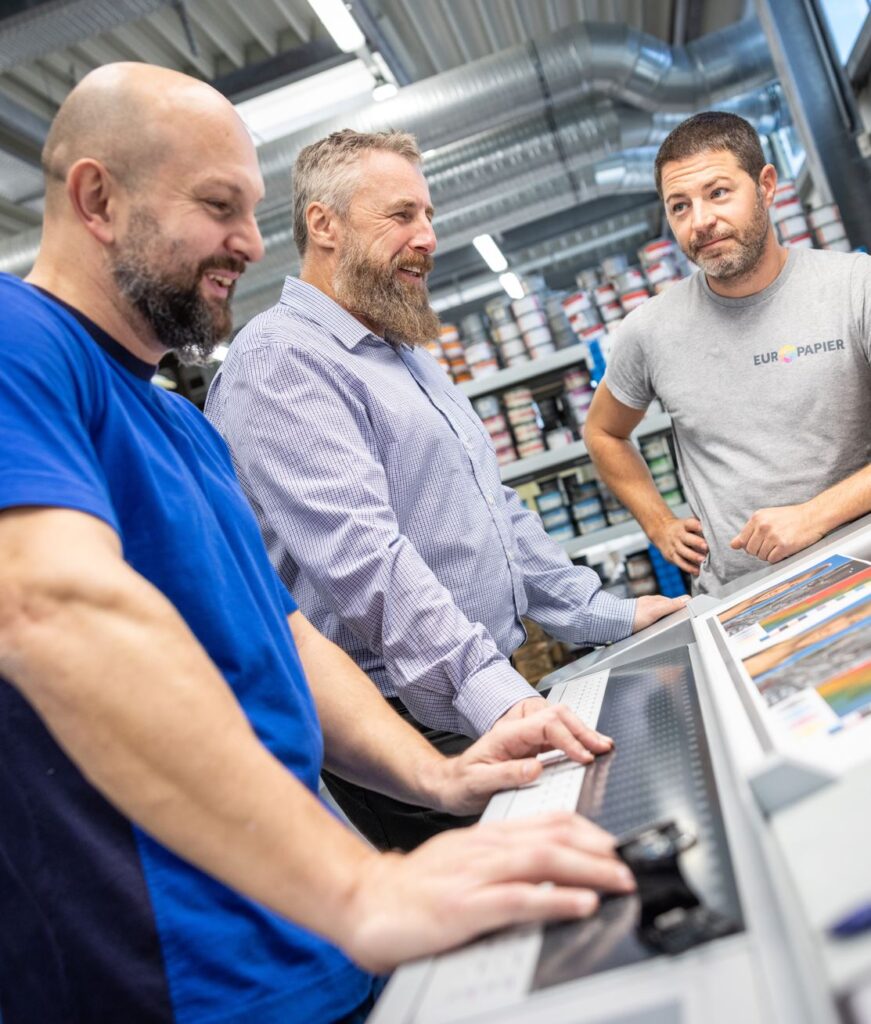 Lenzing paper is not only sustainable, but also of reliable quality - we produce the "whitest" recycled paper on the market, which looks outstanding for the creation of CSR reports and other printed products.
We can offer our customers added value by reducing the environmental footprint of their business. We are happy to support you in providing product metrics and reasons to underpin your sustainability message with facts.
At the end of the day, we all live in an environment in which we work and which we must protect. By using papers from Lenzing, you as a company, can make a further contribution to a cleaner environment and pursue your environmental goals.